This title should read "Painless Ways to go *Almost*Paper-free in Your Classroom" since some of these ideas do require a little paper. However, if you are completely overwhelmed by the thought of going 1:1 and the pressure of going paper-free that goes along with it, then hopefully this post will give you some ideas to ease that transition fear and workload.
1. Zip-grade with a twist.
One reason that there is such a huge push for going digital is that state testing is going that way. Reading on paper and reading on the screen is NOT the same. If students aren't practicing reading and testing on a screen until testing day, then those students will be a big disadvantage. However, it takes SO. MUCH. TIME. to get your tests in a digital format. I'm currently working on putting mine on Canvas, but until then,
Zipgrade
day, then those students will be a big disadvantage. However, it takes SO. MUCH. TIME. to get your tests into a digital format. I'm currently working on putting mine on
Canvas
, but until then, Zipgrade is my solution. Zipgrade is an app that grades via printed "scantrons" by taking and storing a picture. You can read more about it here:
link.
I can upload a paper test for students on my website or in their classroom OneNote, and they can read it from their screen. But instead of selecting answers online, they fill out a Zipgrade form. If they get the test on a Word Document, they can use the
strike out
function and
highlighting function
while taking the test.
2. Page Protectors.
When you do need to use a paper copy of something such as an article that's blocked at school or a story in a textbook, page protectors are perfect! Instead of making all my classes a copy of something, I will have them put a shared copy in a page protector before highlighting or marking on it. I've found that yellow highlights and black dry erase markers work best. I keep these supplies in a little folder for each row. As you can see from the bottom right photo, if you cut a page protector in half, then it will fit perfectly in the spine of the textbook so that it lays flat on each page. My husband is a history teacher, and he uses this method all the time for maps. He says that they love the page protectors so much more than regular paper copies!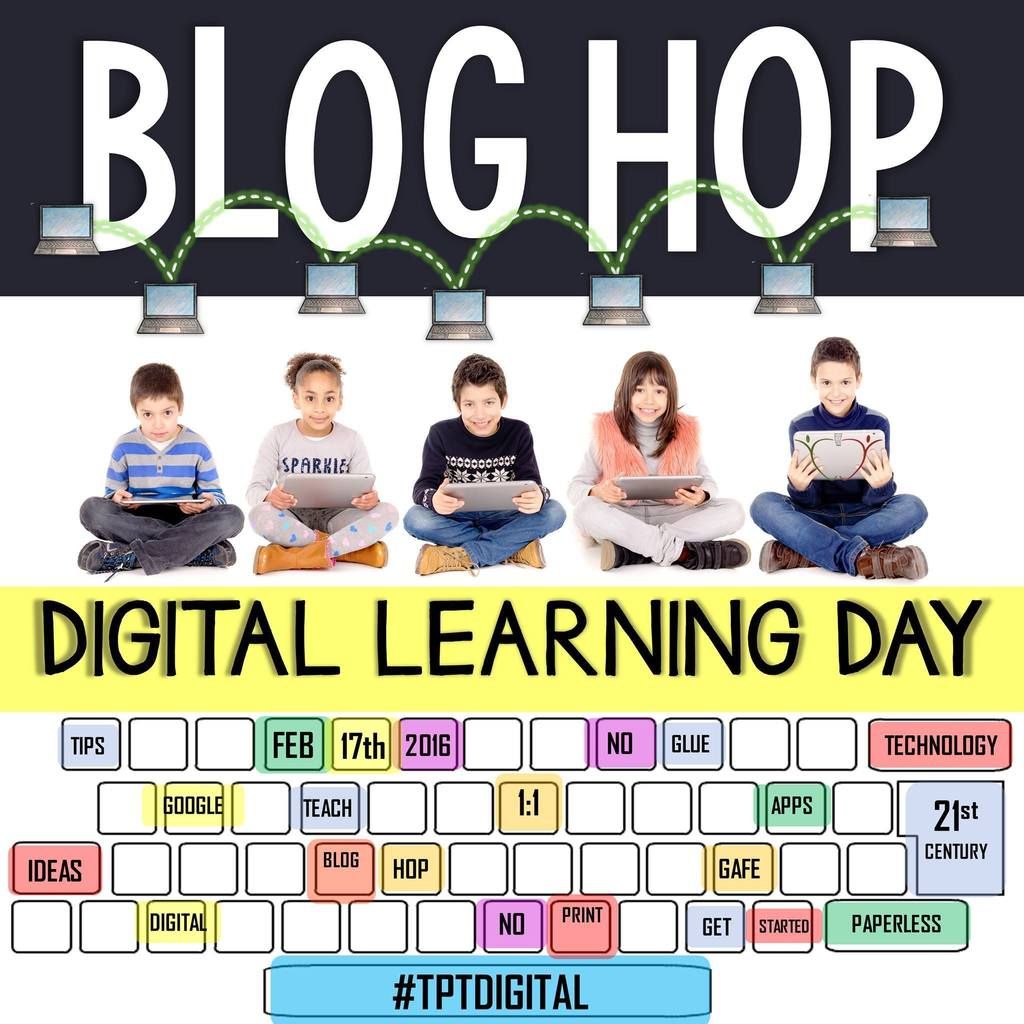 Digital Learning Day 2016--Why Should You Try Something New? Because Your Students Will Thank You.
My students thank me all the time for the new "stuff" we are doing this year. Go ahead--take the plunge! Believe me, if you have access to any sort of technology (even one device), then do it. That one tablet or laptop can open up a window to a universe of instructional opportunities. Your students will want to get to that tech center.
Here's the challenge--On February 17, 2016, try a new lesson that focuses on discovery, analysis, and exploration. Give your students the gift of a new opportunity by using Google Classroom, MS OneDrive, or an App. And don't forget to share what you are doing in your classroom on social media to celebrate Digital Learning Day with #futureready. To help you get started, we've teamed up to share an amazing selection of blog posts and classroom activities that are designed to propel you and your students into your digital learning adventure.